SPAIN RETREAT
2nd - 9th Sept, 2023
With Michael James Wong, Adam Husler, Holly Husler & Camille Vidal
SEPT 2ND - 9TH, 2023
7 nights of vinyasa yoga, meditation, sound healing, restorative practices, wonderful food, Spanish sunshine and plenty of relaxation. Starting at £770.
Book via [email protected]
NOT JUST YOGA
With 4 teachers on board you'll be able to tailor make your retreat as you go. Each morning and evening there will be offerings including; vinyasa yoga, meditation, yin yoga, sound healing and breath work . If you scroll down, you'll find out more about the teachers; Michael James Wong, Adam Husler, Camille Vidal & Holly Husler.
THE VENUE
An enchanting, secluded, beautifully renovated farm nestled in the wheat fields and rolling hills of Spain, around 40 minutes from Seville. When you're not on your yoga mat, in their fully equipped studios, you can top up your tan next to the salt water swimming pool, wander the gardens, say hello to the animal residents, join sauna-night, treat yourself to a massage or head to one of the pagodas and have a relax on a hammock. The retreat centre has a huge amount of space for you you to wander!
THE FOOD
There will be three tasty, organic, vegetarian meals a day, laid out for you buffet-style, with lots of the ingredients coming from the gardens. Don't worry if you are a peckish type; there'll be hot drinks and fruits included and available all day. If you want to treat yourself, the centre has a juice bar and also sells local wine, ice cream and other delights!
Michael and Adam have taught their unique, but complimentary styles of vinyasa yoga around the word and will offer classes that are accessible to all levels though we advise guests to be familiar with vinyasa yoga before the retreat. The other yoga styles and sound healing, by their nature, will be readily accessible to all levels of experience. Whether you are a teacher or newer to the practice, the teaching team will ensure you find value in the offerings.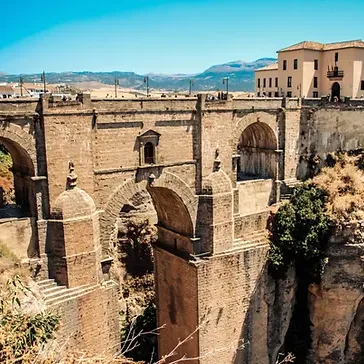 THE OUTSIDE WORLD
Once you arrive you'll see that the venue can organise numerous excursions and activities, at an extra charge. These include excursions to the world heritage site Ronda, to Seville, to a beach and to various walking locations. Equally, there's plenty of advised walks you can take from the venue itself. There's also some options of horse riding, kayaking, dancing and more, depending on availability at that time.
THE DETAILS
Whats included? - 3 meals a day, teas/fruits/coffee, accommodation supplied by the venue and yoga classes/workshops supplied by the named teachers.
Whats not included? - Flights, transfers, excursions, massages, private sessions, insurance, extra training and extra food/drink.
Flights- You can fly to Seville, Jerez or Malaga. Distances can be found here along with approx transfer prices per vehicle. Nearer the time, we will pass on your details to the venue who will mange transfer for those that wish.
...AND SOME MORE
Who can come - the retreat is open to everyone and with 4 teachers, variety of classes and one of the best retreat venues in Europe, this is likely to be a special one.
ACCOMODATION OPTIONS
Take your pick from numerous room options spread around various building and sites at the centre. Scroll down for example images.
Deluxe Double with ensuite and seating area **SOLD OUT**
£1600p.p. single or £1450 p.p. shared
Deluxe double with ensuite **SOLD OUT**
£1450 p.p. single or £1250 p.p. shared
Deluxe double with own bathroom (outside room) **SOLD OUT**
£1400 p.p. single or £1200 p.p. shared
Superior Double **SOLD OUT**
£1300 p.p. single or £1100 p.p. shared
Twin
£1300 p.p. single or £1100 p.p. shared
4 person dorm with own bathroom
£890 p.p
8 person dorm with 2 bathrooms
£790 p.p.
Eco Casa (2 beds or double bed)
£1250 p.p. single or £1150 p.p. shared
Triple Yurt and Family Yurt
£1350 p.p. single or £1180 p.p. shared
Honeymoon Yurt with own bathroom
£1350 p.p. single or £1180 p.p. shared
Family Yurt (Double bed and double sofa bed)
£1080 p.p. single or £880 p.p. shared
Twin Glamping Tent (2 beds)
£990 p.p. single or £790 p.p. shared
Minidome Double
£1200 p.p. single or £990 p.p. shared
The prices above include: 1) services provided by the venue, including accommodation facility usage and food, as mentioned above. 2) a supplement for yoga services, retained by the teachers.
————-
Book via [email protected] and secure your place via a non-refundable 30% deposit, used to reserve your chosen accommodation. You can pay the whole amount immediately or pay the outstanding 70% by 31st July August 2023 at the latest. Should you be booking after 31st July 2023 the whole amount is required to secure the booking.
We recommend you source travel insurance appropriate to current times, that includes cover for any other expenditure inc. flights.